Christie In Love

(Howard Brenton)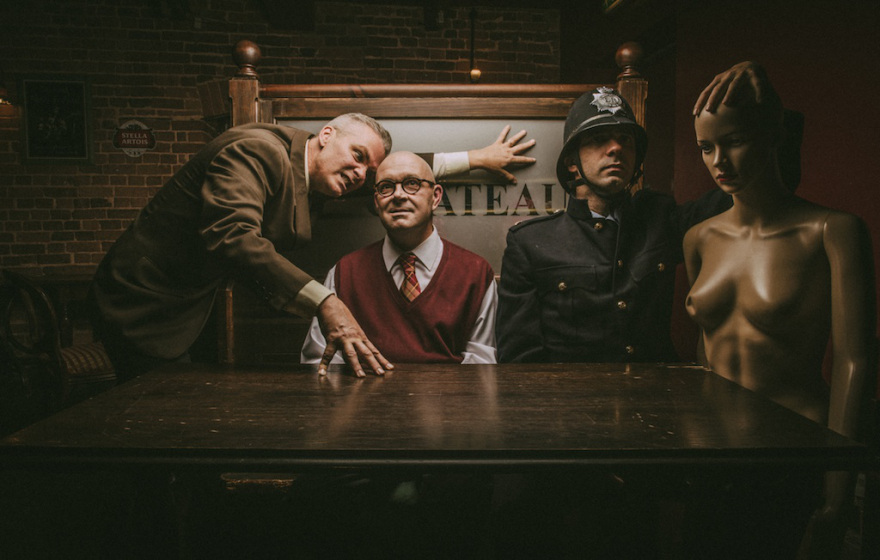 Substance & Shadow Theatre present Howard Brenton's 'Christie in Love' – a dark and distressing journey into the mind of Britain's most notorious single serial killer of the 20th century. John Reginald Halliday Christie strangled eight women, including his wife and a baby. He went on to entrap an innocent man, who was mistakenly hung as a result of Christie's callous handiwork.
Brenton remains one of Britain's most controversial dramatists: "like Genet, [Brenton] feels for the outcast…But he's less sentimentally involved with his criminals, clearer about his ultimate strategy to show the unreality of straight lines in a curved universe, of the roles society forces on us." (Observer)
Substance & Shadow Theatre continue with their customary style of intimate, minimalist theatre and invite you to experience the disturbing and brutal exploration of a murderous mind at extremely close range.
Christie in Love was performed as part of the From Devon With Love festival at the Bike Shed Theatre in Jan 2015, at the City Gate Hotel, Exeter and at the Barnfield Theatre, Exeter October 2014. It was also performed at The Wardrobe Theatre, Bristol in Feb of 2015.
Reginald Christie – Midge Mullin
The Inspector – Nathan Simpson
Constable – Emerson Pike
Directed by Rosie Mullin and Mike Gilpin
Sound and Lights – Rosie Mullin
Music – by Grice from his album Alexandrine
Sound Design: Mike Gilpin
Poster Design – Si Cook
Music – City Flaw, Alexandrine
Photography – Matt Austin
Additional Voices: Ben Rodwell (intro)
Taunting Girls: Sarah White, Rosie Mullin, Anne Gray and Freya Barnett
Ben Tallamy filmed our trailer for Christie and here is more info on the making of it on Ben's blog.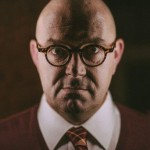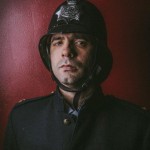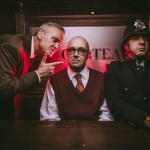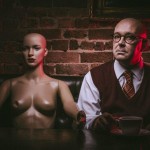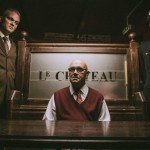 Pictures by  Matt Austin
---
"Midge Mullin delivers just the right amount of sinister banality and repressed malevolence, by turns meek and subservient, then furious, then gloating, so proud of his ability to creep about in his 'plims', silently delivering his judgments on women's right to life. Chilling." Belinda Dillon – Exeunt
"This cast and crew have dug deeply into the themes and meaning of the play and delivered a production that would definitely put a smile onto Brenton's face. Midge Mullin's sad, suffering and devious Christie is an excellent piece of acting and Nathan Simpson's Inspector's veneer of civilisation coating darker depths is masterly. Pike gives a good constable and handles the mannequin like a second skin."Anna Marks – Remote Goat ★★★★
"Brenton quickly leaves us in no doubt that this is a man with a deep loathing of women, and in Midge Mullin's performance this passionate hatred is conveyed with terrifying intensity.

Christie In Love does not make for comfortable viewing, not least because it perhaps suggests that Christie's horrible perversions were but an extreme expression of a more general malaise, but Substance & Shadow's production is uniformly well acted, gripping throughout and certainly thought-provoking."Mike Whitton – Stage Talk Magazine ★★★★
"Midge Mullin's performance as Christie was confident and striking and brought a real bite to the piece that I felt was lacking in its earlier stages. Mullin, at times and perhaps inadvertently, echoed some of Reece Shearsmith's characters in League of Gentlemen…. This is an opportunity to see a well-performed revisiting of an interesting and rarely performed play, and for this reason alone, it is worth seeing."Tom Manson – Intermission Bristol ★★★
"It's not very often that I spend my Thursday evenings watching a serial killer masturbate onstage. Yet, this Thursday evening was an exception. Happy Halloween."
Exeposé